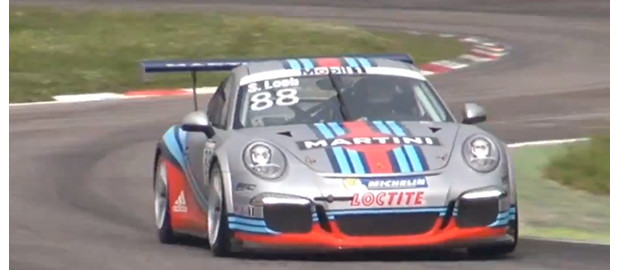 This is the brand new 2014 Porsche 991 GT3 CUP in action at Monza racetrack, just listen to that sound and shifting! Watch how fast it can go even in bad track conditions!
Truth is though , behind the wheel of car number 88 is the most successful driver in WRC history, having won the world championship a record nine times in a row, the famous and French driver;  Sebastien Loeb!  
TECHNOLOGY AND CONCEPT
The new Porsche 911 GT3 Cup is based on the 911 series production model – a pure-bred sports car that offers an exceptional level of power and yet our engineers were able to raise it even further. How? By fighting hard for every kilogramme saved and every kilowatt added. Thanks to the weight-optimised modular racing exhaust system, the 3.8-litre flat-six engine of the new 911 GT3 Cup now produces 338 kW (460 hp). The power of the engine is transmitted to the rear axle by a racing clutch and a newly developed Porsche six-speed sequential gearbox with mechanical slip differential. The electropneumatic paddle shift system makes gear changes even faster and more efficient.
The 911 GT3 Cup is also quicker to decelerate. Fit for endurance the newly developed race brake system performs impressively and will impress rival drivers, who can now be overtaken under braking even more frequently. The stability needed is provided by the extended wheelbase – 100 mm longer than that of the predecessor – as well as the optimised chassis. [source]